Green Eyed Monster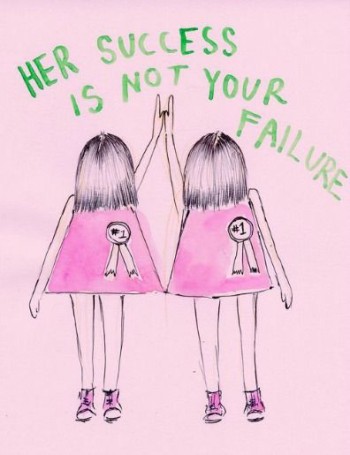 I know that we would love to believe that women everywhere truly support one another but the truth of the matter is, we kind of suck. In reality, we are full of passive comments and judgmental looks. Oh and how could I forget that jealousy tends to ooze straight from our pores. Trust me, I get it. You want to roll your eyeballs so far back into your head that you risk getting them stuck if your perfect friend lands one more promotion or has one more guy fall flat on his face as she walks by.
Jealousy within friendships has been around since the beginning of time so for starters, you aren't an alien if you have ever felt that way. However, I am here to shed a little reminder; friendship is not a competition. Let me repeat myself, friendship is NOT a competition.
Just because your friend landed a big promotion at work does not make you any less of an employee within your company. Just because she was cast for a role that you auditioned for does not mean that your big break won't come. Just because she has uh-mazing God given eyebrows does not mean that you are not beautiful. Catching on?
Her success is not your failure.
There is almost nothing worse then accomplishing something you have been striving for only to have a friend try to suck the soul out of it purely due to jealousy. If the situation were reversed you would expect your friend to immediately commence the celebrations plans, right?
But …. Ugh. I KNOW. You are twenty something and everything seems to be extra hard right now. You and your friends are scattered across the map. Some of you are relishing in your perfect universe equipped with a dream job and Mr. Right. While the rest of you lay down at night not sure how you will pay next months rent and praying that Mr. Right Now will text you back. That life gap does not give you an 'excuse' to be the green monster. In effort to keep yourself sane, it is imperative that you understand that your path is your own. If you seem to be going faster then your best friend or 15 miles slower, it's ok. Seriously, it really is!
Cherish your journey, cherish your friendships and the finish line will be that much sweeter.
With trust & confidence,
Chels
"A flower does not think of competing to the flower next to is, it just blooms."